HOME JOHNSON FAMILY GENEALOGY LINKS LANGUAGE & CULTURE PHOTOS WERNER HISTORY
The Birth of Hulda Kristina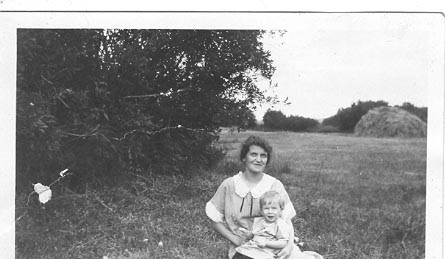 Some of this information comes to us from Don Hampton's Swedish Research Service
Hulda was born Hulda Kristina Magdalena on 23 Jul 1889 in a little community called Westland in Skön Parish, Västernorrland County and she was christened on 7 Aug 1889. The name "Hulda" has quite a history in mythological circles; the Goddess of spinsters, the Queen of the faeries, and even the cause of wintry snow. Hulda is also said to mean "Sacred Spirit" & well, I could go on but the article linked above has plenty of great information on the name. We have yet to discover if this is a common family name for the Johnson/Anderson's.
Her parents were Jon Jonsson (b 8 Jun 1864) and Anna Nikolina Andersson (b 31 Jan 1867). The Skön Parish 1883-1893 clerical survey shows that they were married 16 Feb 1889 and that they had at least three children: Hulda Kristina Magdalena, Hildur Amalia Eugenia (b 9 Apr 1891), and Karl Hjalmar Leonard (b 14 Apr 1893). There may be additional children. Also listed is Johan Hjalmar (b 6 Apr 1886 -- but who died 31 May 1890), shown as Anna Nikolina's illegitimate son.
Hulda's father is listed Jon and Jan, although sometimes the writing can be different enough that an "o" looks like an "a". Hulda's father is shown as Jan in the Varmland County 1864 civil registration, born 8 Jun 1864 in Ostmark Parish. The Ostmark Parish 1861-1865 clerical survey shows further that he was born in a little area called Rundsjotorp. His parents were Johan (or Jon) Ersson (b 1811) and Kjerstin Christiansdotter (b 1810), and the same clerical survey shows that they had at least seven children: Kjerstin (b 27 Dec 1840), Jons (b 9 Aug 1842), Kajsa (b 15 Apr 1846), Nils (b 23 Jun 1854), Per (b 14 Sep 1857), Erik (b 18 Feb 1861), and Jon (b 8 Jun 1864). There will no doubt be other children as I complete further searches.
Hulda's mother Anna Nikolina was born 31 Jan 1867 in the little area called Hogen in Timrå Parish, Västernorrland County. She is listed as the illegitimate daughter of Brita Magdalena Engstrom (b 20 Oct 1848). The 1865-1873 Timrå Parish clerical survey shows that she married Johan Carl Salomon Andersson (b 8 Oct 1847) on 26 Dec 1868 and lived in the area called Skyttberg, but it appears that we will have to wait and see what notations might be on subsequent clerical survey records and other records, before we can be sure that Johan Carl Salomon Andersson actually is the birth father of Anna Nikolina. That same clerical survey also shows children named Carl Bruno (b 6 Oct 1870), Sofia Leontina (b 6 Apr 1876), Johanna Gustafva (b 6 Oct 1880 -- but who died 6 Mar 1883), Johanna Paulina Elisabet (b 2 Jun 1883), and Johan Skoglar (b 9 May 1887 -- but who died 25 Aug 1889). The records continue to state that Anna Nikolina was illegitimate, so there is a high likelihood that we will not learn who was the father.
Thanks to Siv Malmgren..."In this parish there is a sawmill with the name Skönvik.
Parish: Sköns moder
Village: Westland
County: Medelpad
District: Västernorrland
Jon Jonsson f. 1864, arb. born in Östmark parish Värmland
Anna Andersson f. 1869 born in Timrå parish
Hulda f. 1889 born in Sköns moder parish..."

(Thanks to Don Carlson for this on a Hulda Johnson) There was a Hulda Johnson, age 25, who emigrated from Timrå parish in Västernorrland and left Göteborg on 26 Jun 1914 for Winnipeg, MAN. She was traveling with Elf J., age 2.